WomenDanceMen - Immersing/Embracing
Weekend (workshop)
with Sabine Sonnenschein (A) & Robert Richter (A).
Sept. 30th - Oct. 2nd, 2011, Institut Prana, in Vienna (A)
Fri: 6:30 - 10:00 p.m.
Sat: 10 a.m - 10 p.m. (with breaks)
Sun: 10 a.m.- 1 p.m., 3 - 7 p.m.
This workshop is for everyone who feels as sexual being and is willing to explore his/her masculinity and her/his
feminity.
You get the chance to experience yourself as woman or man in a dance, in and with your (love)energy, namely in a mixed or women-only/men-only group.
We focus on immersing/embracing (penetration/taking in) as dual qualities in yourself as a
woman or a man, we feel
these qualities related to the space, to the others and in dancing.
In nondual Cashmirian
Tantrism the sanskrit term samavesa means immersing (penetration) as well as taking in.
What we are going to do in these 3 days:

1st day:
Sensitizing together: Touching und getting touched by the eyes, by sounds and physical contact; sensing the energetic field of a person, encounters in dance. we experience different distances between us as well as different qualities of touch.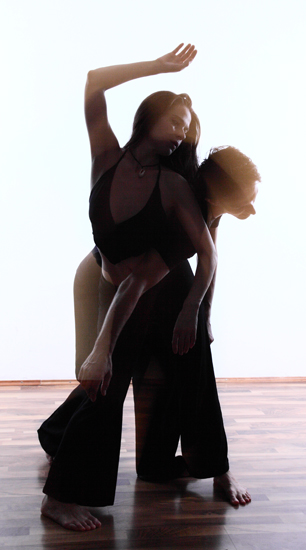 2nd day:
We will split into 2 groups:
one of women, one of men.
You, being a woman? And
you, being a man? What
about your sexuality?
What are your concerns and questions in female/male sexuality and energy?
How does your love energy nourish and enhance your dance?
In each group we go for exchange and focusing on genderspecific issues (see portraits of Sabine and
Robert below.)
3rd day:
Ritualised encounter: WomenDanceMen
How do you feel the polarity
of female and male sexuality and how do you feel your energy in this encounter?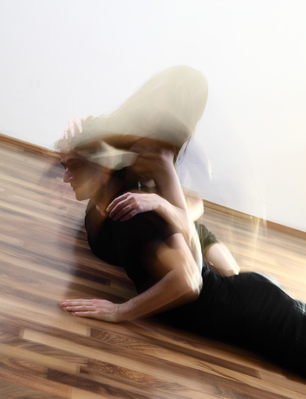 Sabine Sonnenschein (A):



"On the second day - for women only - we go for the energies and qualities of the female potential of love:
We, women of different age, talk about what moves us in our sexuality.
We experience our own breasts in aware gentle self-touch as well as through aware tender touch by another woman. You can feel your breasts being part of the space of the heart. Your breasts might send their warmth and energy to the world.
You experience your own clitoris by aware self-touch and she leads your dance. What is clitoral energy for yourself?
You experience your own vagina by aware self-touch and she leads your dance. What is vaginal energy for yourself?
In a dance we will be in the quality of penetration/immersing (might correspond with clitoral energy) or quality of embracing (might correspond with vaginal energy)".

Sabine (*1970, AT) studied theatre science, philosophy and history of art and has been a freelance choreographer and performer since 1992. Her work has been shown, among other places, in Vienna (Tanzquartier Wien, ImPuls Tanz, Tanzsprache, imagetanz,...), Munich, London, NYC, Stuttgart, Prague, Pula, Berlin, and St.Petersburg, http://sonnenschein.wuk.at . She has been involved with sensitizing the body since 1990, and Contact Improvisation since 1991. She has training in tantric full body massage (AnandaWave/Cologne) and also lomi lomi nui.She was introduced to yin yang massage by Andro, has studied pelvic massage by K. Ruby; intensified her tantric experience at AnandaWave and SkyDancing (Munich), and has been introduced to Kashmir tantrism and Kashmir yoga of touch by Daniel Odier. In Vienna she has practiced tantric body work since 2006, primarily individual work. She gives workshops focusing on the fusion of Tantra and Contact Improvisation. Teacher at ImpulsTanz in Vienna and in 2010 and 2011 several times at Schwelle 7 in Berlin.
Robert Richter (A):

"What I would like to do on the second day - for men only:
We, as men, enjoy very much to go for our (sexual) arousal/ excitement/physical tension.
As much as we like to give us/ to feel the orgasm/ to feel and conquer, fertilize the outside world with our semen.
But let us give, for this day, special attention to this wonderful re-entering of energy in the form of sperm from our testicles into the pelvis in the form of a loop before it flushes forth as our ejaculate.
Adding different fluids and powers- (fuel -power-fluid in the seminal vesicles; exploring/conquering/adopting power- fluid in the prostrate gland ; pre-cum lubrication power- fluid in the cowper's glands) all this finally composing the male ejaculate, the semen.

I call this process, somehow poetically, the" RAINBOW-PELVISPOWER" of men:
because
- this power, potential, in the pelvis of men has, alike the rainbow, bridging and transcendent qualities.
- the colours of the rainbow in the space of the sky, as frequencies of light-vibration, become visible in connection with the essence of the sky, the rain;
and the vibrations of the "rainbow-pelvis-power", in the space of the pelvis, becoming traceable in connection with our male-essence.
Compared to the description of energetical process in sexuality and life made by Wilhelm Reich, the so called "orgasm formula", mechanical tension -> bioenergetic charge -> bioenergetic discharge -> mechanical relaxation, it is the bioenergetic charge, the entering, filling and permeation of energy, the (be)holding of our power on its way, plunging into new kinds of experiences.
We will explore this process and power through sensibilization, movement and dance.
Opening to this space and energy and entering with new found qualities into contact to our surrounding space and workshop-companions".

I am trained in classical healing and chinese-acupuncture- massage; movement analysis by Cary Rick; Bodywork by William Reich "Skan" - training" with Loil Neidhöfer, Petra Matthes, Emily Derr. "Streaming Theatre" as authentic inner expression in work by Wilhelm Reich (with Al Bauman, Miriam Kaufmann) developed in my work to "Streaming Creative Dance" and I was trainer in this method in Austria, Brasil, Mexico and Portugal. I am specialized in my movement work also in expression, movement and feedback in circular systems ( Capoeira de Angola, Samba de Roda, Forum and a positioning/feedback system developed by myself called "Mandala Feedback".)
I am Bachelor of Arts in South Asian studies and can deal directly with the Sanskrit expressions and scriptures concerning the theme of this workshop. I lived some years in international alternative projects of society/community (ZEGG in Germany, Auroville in India). Co-housing projects with men and men-groups . Since some time I am working on the re-introduction of an old set of powerful meditation methods (used in the Avatamsaka, very early Chan, in the Japanese esoterical Kegon and the non-dualistic Cashmirian Shivaism ) called "acintya Vimoksa" which means to "free", in an unthinkable way, your impulses of senses/sensation, movement and mind into your natural state of direct knowledge and visionary experience.
Mit dem ab Herbst beginnenden Unterrichten in " Vimoksa" Befreiung deiner Impulse der Wahrnehmung, der Sinne, der Bewegung und des Geistes nach bestimmten sehr effektiven Methoden aus dem frühen Mahayana (Avatamsaka, Zen) und dem nondualen kaschmirischen Shivaismus erfüllt sich für mich ein Herzens- und Lebenswunsch."
More : robert.richter1@chello.at, ph.: 0699 818 131 25