jkjkjk
kl
kl
Sabine Sonnenschein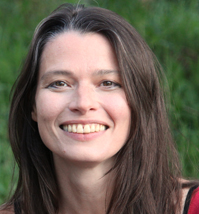 (* in Austria)
is clinical sexologist (sexualtherapeutic method Sexocorporel), she teaches tantra and dance.
She lives and teaches a fusion of a tantric perspective on the world and dance as a practice of life. She supports people to become aware of themselves, to sense their bodies and themselves and to have a healthy and blissful (sexual) life.
Internationally she gives workshops focusing on the fusion of Tantra and Contact Improvisation since 2010, mainly in Vienna (ImPulsTanz Festival), Freiburg, Berlin, Paris (Studio Keller), Bretagne. She has been teaching at Contact Festival Freiburg, Contact Festival Austria, Paris CI New Year Gathering, Xplore Berlin, Xplore Vienna, Touch & Play in Berlin, Open Heart Tantra Festival (at ZEGG, Germany), Tantra & Sexuality Festival Poland, Tantra Festival Ibiza.
Since almost 10 years she is a student of Daniel Odier (Kashmiri tantrism).
Sabine Sonnenschein works together with the musician Günter Touschek (AT). She also works together with Benno Enderlein (DE), Manuela Blanchard (CH) and Déva Presence (Hawaii).
In Paris and Vienna she also offers tantra workshops for women, lesbians and transgender.

Her work one-to-one and with couples:
In Vienna she works as clinical sexologist with the sexualtherapeutic method Sexocorporel , she teaches tantra and gives tantric body work and womb dialogue.
She studied Kashmiri tantrism and Kashmiri massage with Daniel Odier. Deepening in "Vijnana Bhairava Tantra" with Dr. Bettina Bäumer. She has training in tantric full body massage (Michaela Riedl/Cologne) and also lomi lomi nui (with Margareta Kappl). She was introduced to yin yang massage by Andro, has studied pelvic massage by K. Ruby and made the physiotherapeutic training BM Balance (prevention and therapy of problems in the pelvis, bladder, prostate).
She is freelance choreographer and performer since 1992. Her artistic work - 39 performance pieces - has been shown in Europe and NYC.
Focuses in her dance education in NYC and Vienna were:
release techniques, contemporary dance, contact improvisation (CI), developmental movement and ballet.
Impressive CI teachers for her were Nita Little, Andrew Harwood, Daniel Lepkoff, Mark Tompkins and Inge Kaindlstorfer.