Photo (c). Christiian Neher

In this weekend we will bring inspirations and practices together from Circling and Tantra.
Together we will deeply explore questions such as:
How can I consciously co-create embodied intimacy and authentic connection - without losing my sense of autonomy?
How can I deepen my relationships to my loved ones, enable more love to flow between us, and experience more aliveness and energy?

The ancient Tantric teachings tell us that we don't need to "create" love and connection - rather we can invite ourselves and each other to get out of our own way. We can allow ourselves to be touched and surrender to what IS.
We will get in contact energetically, through breathing, in a subtle and holistic way. We become able to see the true being of the other.
We will use Circling practices to recognise and name what gets in our way in THIS moment of authentic connection: our often automatic patterns of defence that draw our attention away from this unique moment of meeting and being met.
You will learn practices from Circling and Tantra that allow us to experience a heightened energy and presence as well as a very real and directly felt connection with the other. You will explore what enables energetic, emotional and physical connection to arise, and how you can enhance it.
The qualities of compassion, courage and curiosity allows us to perceive the world through the eyes of your partner, and to attune energetically to the state he or she is in.
We are holding a space for each other, in which we profoundly feel seen by the other!
Are you willing to open for the Unknown that might be possible between us? This way of being with each other requires a willingness to be vulnerable. When we do that, we cannot predict what will unfold between us. What we can promise is that it will enhance your capacity to stay present - in other words, to meet that which is real between you with love and curiosity - even if it takes you to the edges of your comfort zone.
You are welcome to come alone or with partner/s or lover/s.
Facilitation in German and English.
ABOUT CIRCLING

COSTS: € 300,-
REGISTRATION: Sabine Sonnenschein, son2nens@gmail.com
COVID-19 CANCELATION CONDITIONS:
Cancelation possible till 2 weeks before the workshop, the fee will be refunded, except € 50,- , which can be used as credit for another workshop with Sabine Sonnenschein in 2021 or 2022.
If you cancel later, the full fee, € 300,-, has to be paid, unless somebody is replacing you.
If you bring an attestation that proofs your illness and /or bring a positive PCR-test, please don't join the workshop. In this case you get the fee refunded, except € 50,- , which can be used as credit for another workshop with Sabine Sonnenschein in 2021 or 2022.
In case in the second half of December workshops in person are not allowed in Vienna, the workshop will be held online with reduced times. In this case the workshop fee will be reduced to € 210,- per person.
In this case as an option we will also offer a workshop weekend in 2021.

LOCATION:
FOKUS
1070 Wien, Neubaugasse 44 / staircase 2 / 2nd floor/ top 12

TEACHERS:

SABINE SONNENSCHEIN (A):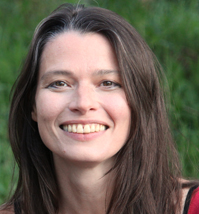 Photo (c): Jesse Johnson
is clinical sexologist (sexualtherapeutic method Sexocorporel). She teaches tantra and the dance form contact improvisation.
She is freelance choreographer and performer since 1992. She lives and teaches a fusion of a tantric perspective on the world and dance as a practice of life. Her artistic work - 39 performance pieces - has been shown in Europe and NYC.
Her work one-to-one and with couples:
In Vienna she works as clinical sexologist with the sexualtherapeutic method Sexocorporel , she gives tantric body work and womb dialogue and teaches tantra.
Internationally she gives workshops focusing on the fusion of tantra and contact improvisation, mainly in Vienna, Germany and France.
Sabine Sonnenschein works together with Günter Touschek (AT), Benno Enderlein (DE) and Manuela Blanchard (CH).
She is student of Daniel Odier since 10 years, she has been introduced to Kashmir tantrism and Kashmir yoga of touch. Deepening in "Vijnana Bhairava Tantra" with Dr. Bettina Bäumer.
She has training in tantric full body massage (AnandaWave/Michaela Riedl/Cologne). She was introduced to yin yang massage by Andro, has studied pelvic massage by K. Ruby. She made the physiotherapeutic training BM Balance (prevention and therapy of problems in the pelvis, bladder, prostate).
ROMECK VAN ZEIL (NL):


body-orientated psychotherapist, supervisor and leadership coach. His passion is to explore radical intimacy: What does it mean to be totally present in a relationship? How do autonomy and union match? How do we create our reality of relation, saying yes to what is true and alive in the moment?
Since 1995 he givesr international workshops, teaching and trainings with circling, embodied presence, relational leadership (Beziehungsorientierte Führung), tantra.
www.relationalleadership.academy