kkkk
Contact Improvisation based on Tantra
Workshop with Sabine Sonnenschein (AT)

November 7th - 8th, 2015
STUDIO KELLER, Paris
For everyone with experience in CI plus meditation/tantra
Saturday November 7th: 2:30 p.m. - 5:30 p.m. and 7p.m.-10 p.m.
Sunday November 8th: 11 a.m. - 2 p.m. and 3 p.m. -5:30 p.m.
Through tantric approach and techniques, Contact Improvisation (CI) becomes a tantric practice, a holistic and spiritual dance experience. Which can result in more fully aware dances. Sabine Sonnenschein combines Sadhana and practices from Kundalini Tantra Yoga (from Swami Satyananda Saraswati), Kashmiri Tantrism and CI:
We will experience CI in a new way through the tantric approaches towards the world, such as sparsa (touching and being touched), spanda (vibration of the consciousness and the world), bhakti (devoted love) and samavesa (to immerse as well as to absorb).
In these sessions you will experience your perception and your need of space. You will become aware of your personal limits and taboos. It is important to respect these aspects and observe how they can effect others and ones communication with them. Subsequently, you can also experiment with your limits or even transcend them. We practice respect towards ourselves, self-responsibility and empathy for others: experiencing which quality of touch attains to your nature and which quality of touch supports your nature and which not. How do you enter the space and the energetic field of your partner? How do you get in contact with the cells and the nature of your partner? In touching your partner how do you invite his/her cells into movement?
A deep encounter between you both becomes possible, if you don't expect anything from your partner, nor your partner from you. A deep encounter becomes possible, when you don't just take advantage of your partner to just feel yourself and when your ego does not instrumentalise him/her, but instead, becomes silent and both of you experience each other and also the communal space, maybe even the universe.
How do you touch the space as your lover? How do you in dancing become closer at being one with the soul of the space, the world or the universe?
Expanding into the space you may experience oneness, you may experience Samadhi.
In this workshop we practice CI not just under the lens of physical and anatomical aspects. You dance as a unit of body, soul, spirit and mind.
Love energy and sexual energy are not excluded, but used to bring deeper awareness and to nourish your dance.
We will be practising in a mixed gender group.
There is no heteronormativity in this workshop!
You can come alone or with partner/s.
The workshop is held in English with French translation.

REGISTRATION & INFORMATION:
To register, please send your name and email address to:
Carey Jeffries
contactcarey@yahoo.com




COSTS: € 120 normal price
€ 100 for students, unemployed, Studio Keller membres


LOCATION:
STUDIO KELLER, 1 rue Keller, 75011 Paris




TEACHER:
SABINE SONNENSCHEIN (AT)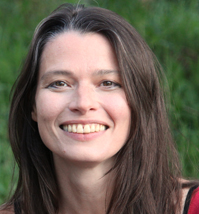 Photo (c): Jesse Johnson, 2014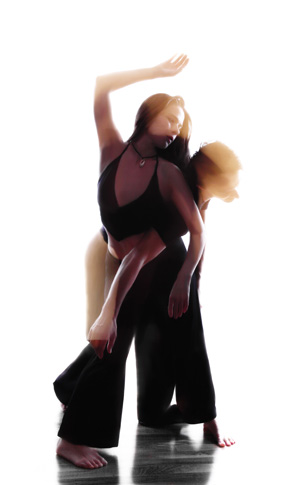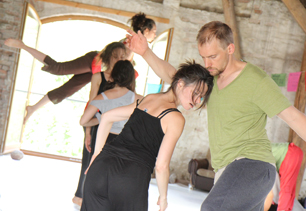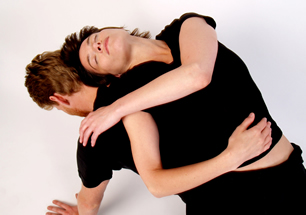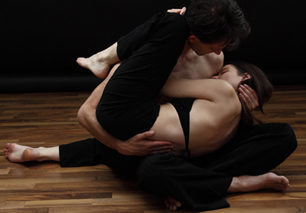 (* 1970 /AT)
is sexologist (sexualtherapeutic method Sexocorporel), she teaches tantra and contact improvisation.
She is freelance choreographer and performer since 1992. Her artistic work - 39 performance pieces - has been shown in Europe and NYC, sonnenschein.wuk.at .
She lives and teaches a fusion of a tantric perspective on the world and dance as a practice of life.
Focuses in her dance education in NYC and Vienna were:
release techniques, contemporary dance, contact improvisation (CI), developmental movement and ballet.
She has been involved with sensitizing the body and Contact Improvisation (CI) since 1990. Impressive CI teachers for her were Andrew Harwood, Daniel Lepkoff, Nita Little, Mark Tompkins und Inge Kaindlstorfer. She has training in tantric full body massage (AnandaWave/Cologne) and also lomi lomi nui (with Margareta Kappl). She was introduced to yin yang massage by Andro, has studied pelvic massage by K. Ruby and has been introduced to Kashmiri tantrism and Kashmiri yoga of touch by Daniel Odier. Deepening in "Vijnana Bhairava Tantra" with Dr. Bettina Bäumer.
In Vienna she has practiced tantric body work, womb dialogue and tantric coaching with focus on sexuality since 2006.
She gives workshops focusing on the fusion of Tantra and Contact Improvisation. Teacher at ImpulsTanz Festival in Vienna, Schwelle 7 in Berlin and Studio Keller in Paris.
Sabine Sonnenschein works together with the musician Günter Touschek (AT) since 2010. She also works together with Benno Enderlein (D) and Manuela Blanchard (CH) and Malcolm Manning (GB).